Interview by Grant Drumheller guest contributor
Arthur Levine is a painter (princestreetgallery.com/artist-page/arthur-levine/), former professor of Drawing Painting and Printmaking, and a longtime friend. I have known him since he and Petey Brown got together back in the 1980's. I have always known him as a dedicated painter, repairing to his studio on the top floor of a brownstone in Park Slope Brooklyn.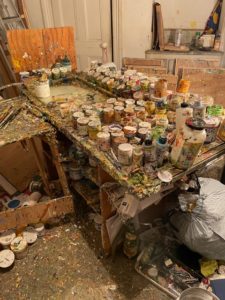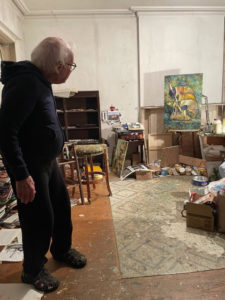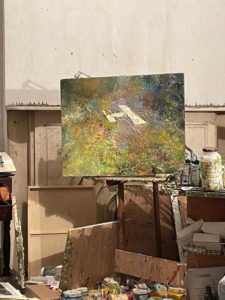 Arthur grew up in Chicago and attended the University of Iowa where he studied with Mauricio Lassansky. After receiving his MFA Arthur was awarded a Fulbright Grant to Paris. He stayed for an additional year. From there he taught at the University of Illinois in Champagne Urbana, then at UCLA. He moved to New York from California with his family to assume a teaching position at Richmond College, CUNY on Staten Island. Since early on, when he had recognition for his talent he has largely worked in the "known" obscurity that defines many New York artists. On more than one occasion, I would stop in at Petey and Arthur's house only to meet the likes of Robert Kulicke or Lennart Anderson or any number of painters both male and female active for long periods in the city. Arthur shows at the Prince Street Gallery and has for many years. Up until the pandemic, the Levine/Browns were dedicated gallery visitors, seeking out old friends and finding them in odd places (I remember one evening with them during an opening Thursday eve in Chelsea, bumping into the painter Ellen Lanyon on the street, and a hearty reunion occurring after many years- old friends and colleagues.
Arthur Levine claims his own ground in painting and drawing. His work might be considered a kind of one-man culture; his own rules, rhymes, subjects, technique are deployed. I love his work, and in my opinion, his most recent work is his best.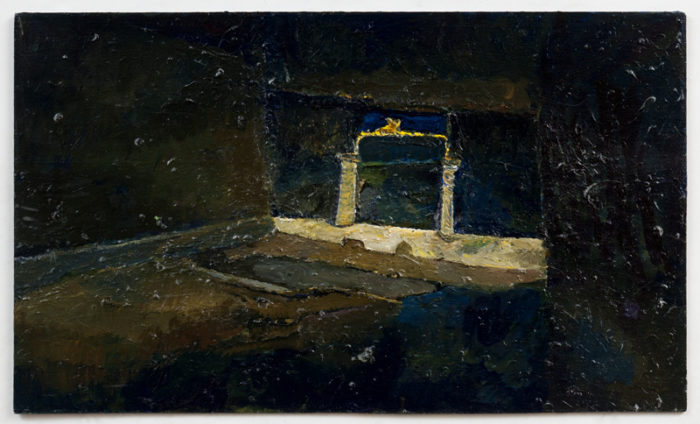 His work is characterized by saturated cloudlike patches of fractious and swirling pigment, and often, if not always, a single object occupying a hard-fought location in the space–a biplane suspended in flight, a warship, a galleon in full ghostly sail, or a castle under a tormented sky. Supporting his painted images are volumes of precise and finely wrought line drawings, in an evenly steady and weighted line, again like no one else's. Firmly drawn, even delicate, their quality lies in the deft use of freshly sharpened HB pencils, utilized one after the other by the fistful, as to ward off any mushiness and blurring in that beautiful line.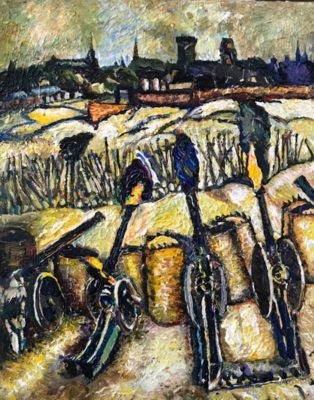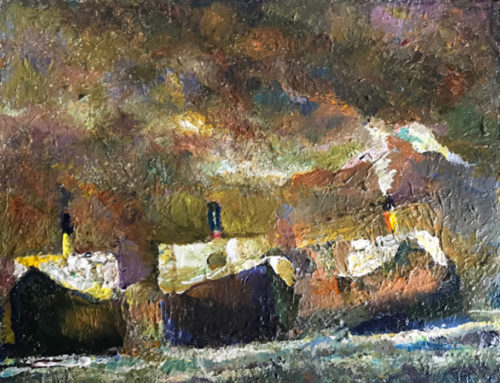 On the occasion of his upcoming show at Prince Street Gallery, April 26 until May 21, 2022. I asked Arthur a little about his background and some of the things he's striving for in his work, and often how and why he comes back to the same subjects again and again.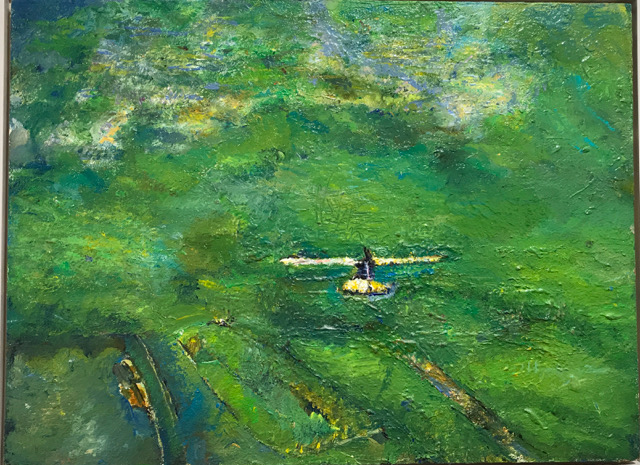 Grant D
You have such a unique studio, the only other one like it was Lennart Anderson's that I know of. You ascend to your studio chamber, not at all like the rest of your home – it's completely cut off, the windows covered, cracks in the plaster and layers of dust, no references except those you permit. Your studio seems to me to be cut off from all sense of the everyday–do you think that it has been important in your work, that environment?
Arthur L
I prefer to control the light so I darken the windows and use incandescent light. As for the dust, I guess I just hate to sweep up. My studio is cut off from "the everyday" because when I paint I am diving into that vast pool of memory, aspiration, inspiration, technique, and most importantly, emotion and the closest to ineffable that I can get. Creating the environment helps immensely.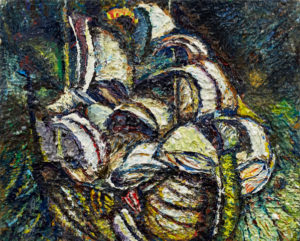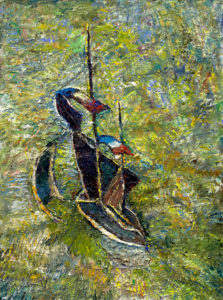 Grant D
You taught for decades. In fact, Vija Celmins said you were her favorite teacher! Did the interaction with your students serve to clarify or reconsider your own work? Was learning technique for students something you felt strongly about?
Arthur L
Working with students was of immense value: give and take, new subject matter, different points of view; all are necessary to stay alert and dynamic as an artist. As for technique, it is only a pathway to expression and not something I ever consciously promoted.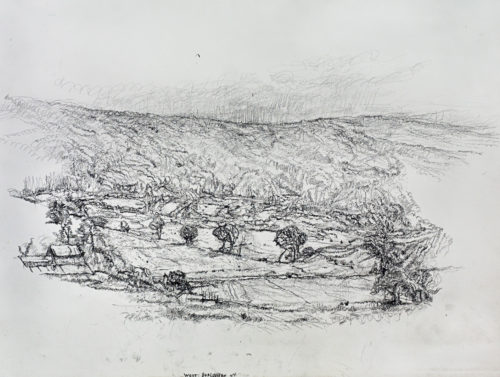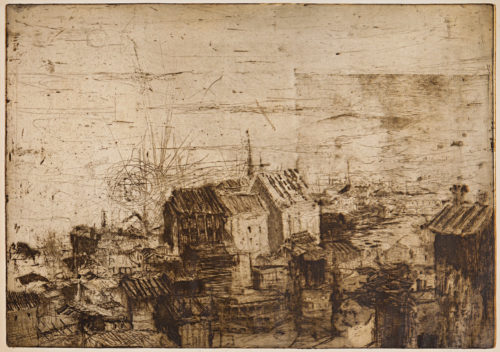 Grant D
You spent time in Paris in the early 1950's. Did you know other artists, American or French, during that time? The Paris I remember of 1973 is quite different (I recall Les Halles was still standing). Can you tell me what it was like, the people you met, events?
Arthur L
I received a Fulbright in 1950 to study in Paris. I economized and stayed until August 1952. I painted in the top floor studio of the American Student and Artists Center on Boulevard Raspaille and lived in Montparnasse. In the summers I traveled all over Europe drawing amazing landscapes. I drew from the slagheap in the Borinage where Van Gogh preached. The Fullbright commission was wonderful, arranging visits to Brancusi in his studio, a visit to Kandinsky's apartment in Neuilly to meet his widow, and I met Hayter and LaCouriere, the printer of Picasso's Minotaur Machier. I traveled with Ellen Lanyon and Roland Ginzel to London and Cornwall. But perhaps my strongest memory is of the political protests, demonstrations, etc. about the Marshall Plan, Soviet Prison Camps, l'affaire Henri Martin (concerning the French in Vietnam).
Lastly, I bought a wonderful 19th century etching press from the estate of Louis Icart and had it shipped to Chicago, where I then returned in 1952.
Grant D
It sounds like a mythic time to have spent those years in Europe. Returning to the present, you mentioned humor in your new body of work, could you expand on that?
Arthur L
While improvising on a recent picture a figure popped out. I "saw " a pair of chaps which led to a "cowboy movie," It was a surprise to me; I was bemused and happy to have found some humor. I love that lightheartedness and good painting are not mutually exclusive. I also love the fact that this is the first painting in years where the human figure appears.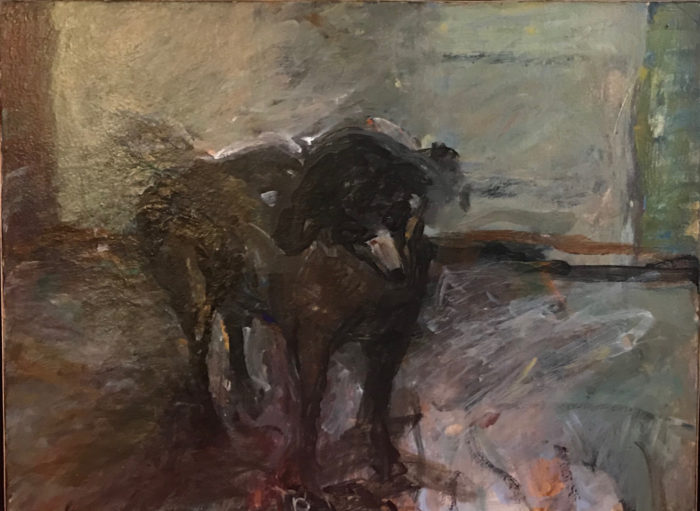 Grant D
Painting is a unique art, with twists and turns and moments of loss and recapturing. Sometimes things happen and the painting is directing you. I feel that "process", for want of a better word, is what carries you in your painting. Can you comment?
Arthur L
My process includes altering, wiping, improvising, swiping, sometimes with my hands. This is how I flush out the half-formed ideas or at least am able to better visualize them. I hope that ultimately the process ennobles the image.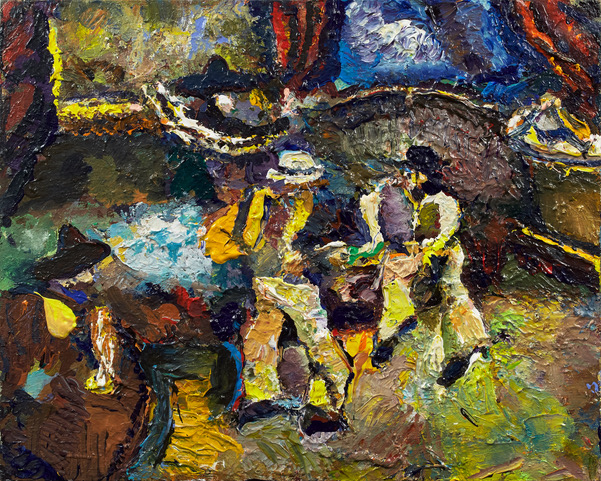 Grant D
What aspects of these subjects continue to pull you back to them and make you want to continue to explore them further?
Arthur L
I am always trying to expand and not contract….my childhood memories of images of war, Lindbergh and his trajectory, etc. have influenced my subject matter. It is a mixture of memory, distance, and myth.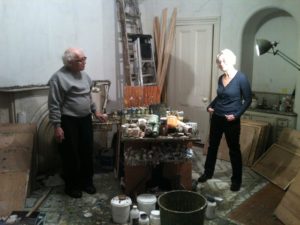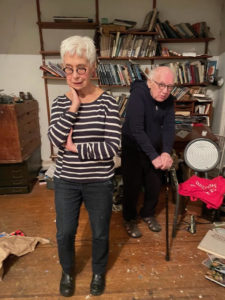 Grant D
You and Petey Brown have been together a long time. How does being married to another painter enhance your work and your life?
Arthur L
I will say this as succinctly as possible. Having Petey, my wife, at my side is like having a sympathetic but more objective set of eyes; a different point of view; and a willingness to express her critical opinion. These are all qualities that I prize immensely. (and sometimes pay attention to).