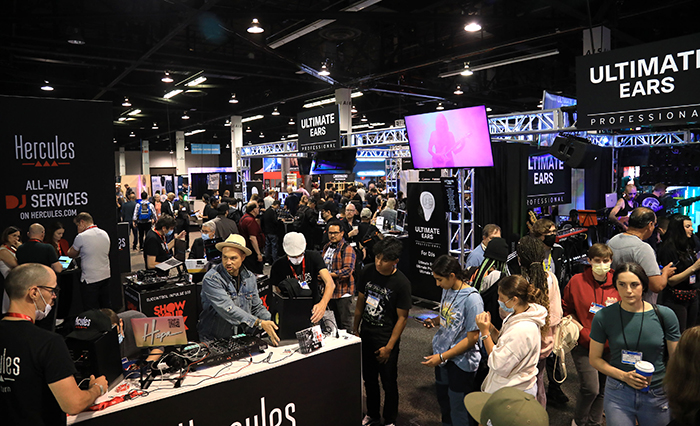 After a two-year hiatus, industry leaders, innovators, experts, artists and creators harmoniously reunited at The National Association of Music Merchants (NAMM) Show, the world's largest annual trade show and conference for global music product, pro audio and sound and entertainment technology industry professionals.
Held June 3-5 at the Anaheim Convention Center in Anaheim, Calif., the streamlined, three-day platform for the $17 billion music products industry pivoted back to face-to-face by welcoming a smaller but serious audience of 46,627 attendees from more than 111 countries and territories and more than 1,000 exhibitors representing 3,500 brands. 
Reduced from four to three days, the staple Anaheim event ­– typically held in January – marked the first time the show has ever taken place in June, a decision made in September 2021 due to the resurgence of COVID-19 variants and travel restrictions still in place at that time, according to NAMM officials. The event was also consolidated with the 2022 Summer NAMM Show, which is expected to return to Nashville in 2023.
"Looking back to the 2020 NAMM Show, I don't think anyone could have predicted just how transformative the start of this next decade would be," said Joe Lamond, president and CEO of the National Association of Music Merchants, one of the largest non-profit trade associations in the U.S. representing music and sound product manufacturers, distributers and retailers. 
He continued, "But as we have weathered the uncertainty and loss over the past two years, we again stand at the crossroads of opportunity. The NAMM Show serves as that platform for the next generation of technologies, products and services, and sets the stage for NAMM Members to discover their own opportunities to advance their businesses, skills and market opportunities." 
Despite reduced participation, the event drew in a strong global turnout comprising a comprehensive mix of domestic and international retail and distribution buyers and employees, exhibitors, entertainment tech and pro audio buyers and professionals, media, artists, students and invited guests.
A Vibrant Showfloor
At a bustling expo, attendees took full advantage of opportunities to network with dealers, distributors and industry peers as exhibiting companies showcased products, launched new solutions and pursued business opportunities, and music enthusiasts tried out new instruments or hobnobbed with established artists.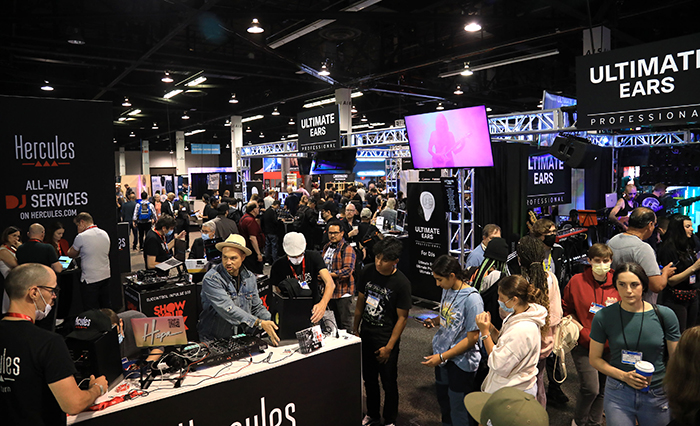 Many exhibitors agreed that the two-year gap between in-person shows was not only a great reminder of the power of face-to-face events for such a "touchy-feely" industry, but also of NAMM's incredible business value as a global platform and community-oriented organization.
"Our industry is built on the connection between people, and consequently, it's been important and inspiring to connect again, face-to-face," said Alexander Pietschmann, CEO of Adam Hall Group. "The new NAMM has afforded artists, music enthusiasts and industry professionals the opportunity to engage in vital conversations, educational sessions and instilled further confidence that the live event industry is alive and well." 
Stephen Schmidt, vice president, electronic music instruments division for Casio America Inc., agreed that the 2022 NAMM Show was an essential, not-to-miss event for his company.
"This year's forum enabled us to reconnect with our dealers and industry friends and provided a sense of normalcy and the 'good old times,'" said Schmidt. "While we were excited to share our award-winning Privia pianos and Casiotone keyboards, we were equally grateful to NAMM for its strong leadership and support, and for working overtime to successfully and safely bring us all back together." 
Future-Focused Education Sessions and Special Events
At the show's cutting-edge conference portion, NAMM participants had the opportunity to learn from top thought leaders via more than 200 education sessions across myriad tracks designed to engage, inform and inspire new ideas, advance careers and prepare for the future.  
Along with compelling panel discussions featuring a strong lineup of industry experts and artists, the show's vital educational offerings included retail innovation and financial summits, professional development sessions and skill-building and future-focused sessions covering an array of timely topics including post-pandemic leadership and business-enriching strategies, live event production and safety, creative production trends, technology innovations and new product picks and demos.
"In some ways, the NAMM Show is the glue of our business and our industry," said Jamie Latty, COO at Deering Banjo Company. "This year, we have a number of new hires on the team and NAMM is the perfect place to immerse them in the industry and to take advantage of the educational offerings that can only be found here."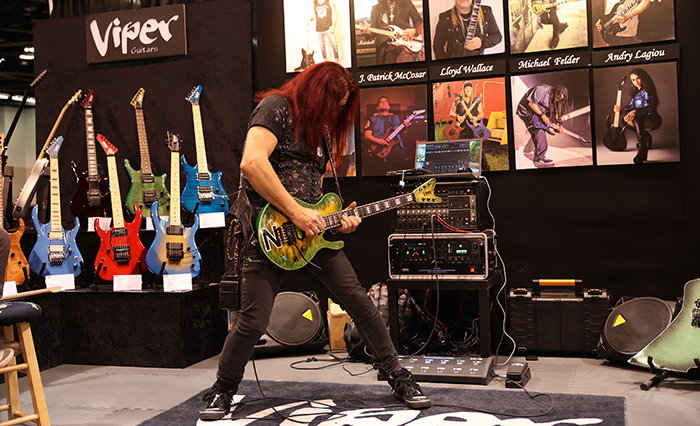 The NAMM Foundation also presented curated education and sessions for music professionals via its GenNext curated programming for college music students and faculty, Music Education Days for music teachers and school administrators and The Nonprofit Management Institute for nonprofit arts organizations. 
Additionally, NAMM offered a massive and colorful array of star-powered special events, including myriad live concerts and award ceremonies celebrating industry leaders and luminaries, including the Top 100 Retailer awards presentation, a Summer NAMM Show staple debuting at The NAMM Show this year.
A Global Hybrid Event
This year's edition also marked NAMM's venture into hybrid events with its new digital extension, NAMM Show+, an online, 24/7 interactive unified platform that built on last year's first-ever online NAMM Show. Open to all show registrants and accessible from anywhere in the world, the free, five-day Believe in Music week digital platform offered nearly 100 livestreamed sessions, special events and performances from across the NAMM campus, as well as attendee networking opportunities via live chat. 
While all health and safety measures were optional at this year's show, for those who wanted it, NAMM offered on-site rapid antigen and PCR testing, N95 and surgical masks and color-coded closeness stickers for badges, provided hand sanitizer stations and offered a health concierge for attendees needing assistance.  
According to Visit Anaheim officials, this year's convention generated nearly $77 million in economic impact for Anaheim and Orange County while supporting more than 26,000 local jobs. Additionally, The NAMM Foundation makes significant contributions to the community and has donated more than $75,000 to Anaheim schools over the years to help provide students with well-rounded educations that include music.
"It [was] good to be back in Southern California and to see so many NAMM Members come together again to experience the products and innovations of the past two years and to enjoy the comradery and networking that's been missing from our lives for far too long," said NAMM Chair Joel Menchey, president of Menchey Music Service. "We're at our best when our industry is together, and at a show like this, inspiration emanates from every hall, conversation and surprising chance encounters to become the launching board for the next great idea." 
The NAMM Show will return to the Anaheim Convention Center April 13-15, 2023 and resume its usual January timeline in 2024. 
Don't miss any event-related news: Sign up for our weekly e-newsletter HERE, listen to our latest podcast HERE and engage with us on Twitter, Facebook, LinkedIn and Instagram!