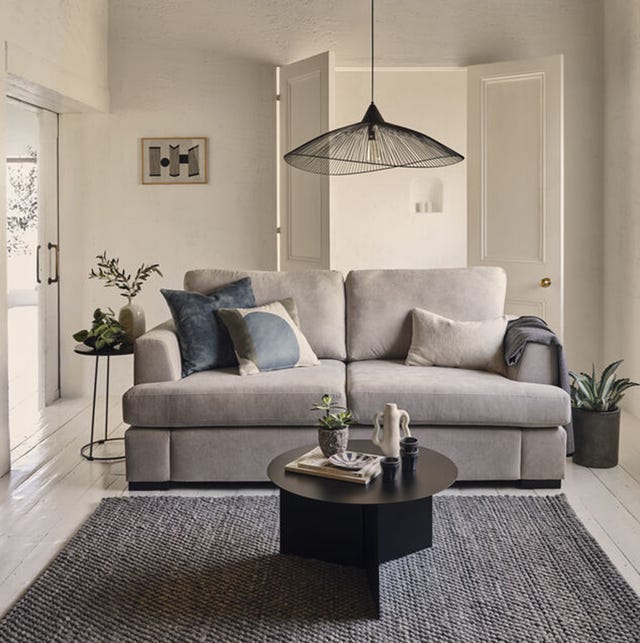 Annie Sloan, Desenio, SIMON BEVAN
Whilst grey is the arguably the most popular neutral in interior design today, 'greige,' a combination of grey and beige, is being favoured more and more for its capacity to warm up an all-over grey design scheme. Greige is really the best of both worlds, combining the cooler and more placid look of true grey with the warming nature of beige.
Greige is nothing new to the design world, in the 1980s, Giorgio Armani became known as 'the king of greige' for his abundant use of the colour in his designs. But a proliferation of greige paint is moving the trend to the fore.
COAT sells a ready-made Greige swatch pack with five of their most popular greige paints. 'A top colour for summer decorating projects is Tuesday's Child, a graceful light greige, with a slight green undertone, which is natural and bright, bringing that biophilic feel to the room,' says COAT Paints' Colour Curator, Aaron Markwell.
Greige is certainly not the most difficult colour to use in your home, but its application can take some getting used to – using grey or beige independently is as easy as it gets, but marrying the two and striking a balance between cool and warm design schemes comes with some challenges.
'How you dress the room is really important in making neutral schemes sing,' says Aaron. 'Upholstery in slightly deeper tones than the walls adds grounding and subtle contrast that looks really considered. When choosing accents like cushions and artwork, use a bolder version of your neutral colour. For example Coffee browns for taupe schemes or olive greens for greige schemes like Tuesday's Child.'
Read on for 13 ways to use greige in your home…
Advertisement – Continue Reading Below
1
Greige decorating ideas: the all-over neutral
This contemporary living room is a great example of how much warmth a greige colour scheme can add. If a crisp white wall was used here, the grey sofa and black accessories would become cooler and more contemporary. Greige is often an easy way to soften a room with lots of modern monochromes.
Pictured: House Beautiful Freya Sofa at DFS
2
Greige decorating ideas: how to add warmth
Greige is very susceptible to the influence of other colours – the shades and tones used near or next to it will dictate if it leans cooler or warmer. Here, pairing a greige wall with ochre and gold brings out its warmer side – a great choice in a bedroom.
Pictured: Alderman™ No.60 at Mylands
3
Greige decorating ideas: serene decorating
Greige has always been popular because of its versatility and calming qualities. Lean into the serene side of greige with a soft design scheme that uses organic materials, natural woods, and some greenery.
Pictured: House Beautiful bamboo Venetian blinds at Hillarys
4
Greige decorating ideas: greige and other colours
There are very few colours to avoid when decorating with greige – just exercise caution with citrus colours, as they can often highlight any yellowish undertones in your greige paint. The mix here of cooling blue and warming pink works beautifully.
Pictured: House Beautiful Neva Bed at Dreams
5
Greige decorating ideas: bohemian styling
If you are a fan of laidback, bohemian styling, greige is your best friend. Bohemian design schemes are usually sparing with colour, but too much white or grey in one room can be a bit insipid. A warmer greige will complement your wood, rattan, and other natural materials.
Pictured: House Beautiful Sloane Blush Carpet at Carpetright
6
Greige decorating ideas: whitewashed wood
Decorating with whitewashed wood is a simple way to introduce elements of greige without painting your walls. Whitewashing brightens the look of wood surfaces without covering any natural grain, which gives you a naturally occurring greige shade.
Pictured: Lucille 3 Drawer Chest at Dunelm
7
Greige decorating ideas: outdoor usage
Greige is a brilliant choice for your outdoor spaces because it sits so happily with common garden materials, including most shades of wood (just be careful when using a very red wood, overly saturated shades don't always work with cooler colours.) It's a great complement to black wrought iron, painted brick, and natural greenery.
Pictured: Amberley Sofa Set at Garden Trading
8
Greige decorating ideas: add monochromes
Black and white is so often seen as a complete design scheme, without the introduction of a third complementary colour, but all-over monochromes can often appear harsh. If you have a lot of black and white pattern or accessories in your home, try a greige wash on your walls – this Annie Sloan colour was inspired by the look of aged French linen.
Pictured: French Linen Paint at Annie Sloan
9
Greige decorating ideas: psychological impact
If you're creating a WFH space, and need colours to help you concentrate, greige is a great choice. In colour psychology, grey represents neutrality and balance, and can encourage focus, whilst beige is said to be calming and relaxing.
Pictured: House Beautiful Durable Mono Tones MT.05 Paint at Homebase
10
Greige decorating ideas: traditional greige
As this elegant kitchen corner demonstrates, greige can be used effectively in more traditional settings. For your hardware, avoid anything too polished or reflective, and choose instead an antique brass or dark nickel. The cream enamelware is a great touch here, too.
Pictured: Cornice™ No.65 Paint at Mylands
11
Greige decorating ideas: Scandi minimalism
12
Greige decorating ideas: gallery wall
Gallery walls work most effectively when they're fairly full with an eclectic mix of styles, but in a greige space, too much colour or detail might appear overwhelming. You can offset some of the busyness by choosing complementary neutral tones in your artwork, and slim frames in paler woods.
Pictured: Nature Creation Gallery Wall collection at Desenio
13
Greige decorating ideas: green undertones
Greige can have different and very subtle undertones, from soft pink to sage green – Drop Cloth by Farrow & Ball is a great example of a greige that has greenish undertones in cooler light. It's especially important when choosing greige paint to use testers and live with the colour at different times of the day.
Pictured: Drop Cloth at Farrow & Ball
Follow House Beautiful on Instagram.
This content is created and maintained by a third party, and imported onto this page to help users provide their email addresses. You may be able to find more information about this and similar content at piano.io
Advertisement – Continue Reading Below